TIDYMP3
Welcome to the official homepage of TidyMP3: the number one freeware MP3-tag remover: cleans every kind of tag or lyrics from your mp3-files: ID3v1, ID3v2, LYRICS3. Also fixes broken frames. Ready for the future, will also work on tag-formats that do not exist yet. Scroll down for more information and downloads.
FREEWARE ADVANCED MP3 TAG REMOVER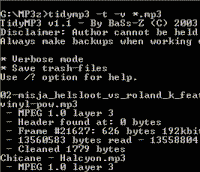 This tool removes every kind of trash from your mp3-files. It searches for valid mp3 audiodata-frames and removes everything else. This has the big advantage that it will also remove tags which are in the middle of the file (as is the case with joined tracks) as well as broken frames (half-downloads) and malicious tags (Tag-buffer-overflow bug in WinAMP and Windows XP). Use this tool to cleanup your mp3 files before you add your own tag. No more double tags, or annoying 'Lyrics'data containing groupnames or misspelled songnames.
Best of all, it's free! It's a 32-bit command-line tool that runs on every Windows-version since Win95.
FRAME RECONSTRUCTOR

Some ID3v1 tagging-tools will overwrite original audiodata if no tag is present (they just blindly overwrite the last 128 bytes, instead of appending the tag to the file). This causes clicks and pops when playing the mp3. TidyMP3 tries to fix this by copying framedata from valid parts of the frame. The frame reconstructor does the same with 'LYRICS'-data, and works also with partial tags. Have a look at a before/after screenshot by clicking on the thumbnail. To disable the frame reconstructor, you can use the /F commandline option.
JOINED TRACK ALBUMS
With this simple DOS-command, one can easily merge albumtracks into one large mp3-file:
COPY /B *.mp3 MyAlbum.mp3
Well, it works, but it will also copy the tags for every track into the album. This can confuse MP3-player software (especially hardware). What to do if you download such an album?
First use my program CueMaster to create a Cue-sheet.
Then use TidyMP3 to clean the big mp3file.
Now you have a cue-sheet + a clean mp3file. What do you want more?
DOWNLOAD
Current version: v1.4 [2004-22-09]
DISCLAIMER
This program is free software and may be freely distributed as long as all files are included, and it is not modified or sold. There is no warranty. The authors are not responsible for the use or abuse of this software or any consequences resulting from use or abuse. We will try to do our best to solve any problems but there is no guarantee of any kind. Please let us know if you have any problems running TidyMP3 on your system.
ALTERNATIVE SIMILAR UTILITIES
If you are looking for similar utilities as TidyMP3 that may better suit your needs, have a look at these pages:
---
Download TidyMP3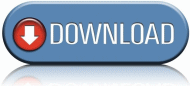 Contact information
CueMaster
Contact form
E-mail: support@cuemaster.org
Advertisement
TIDYMP3 IS DONATIONWARE - PLEASE DONATE!
TidyMP3 is a completely free program. Creating and maintaining TidyMP3 has required - and still does - a considerable amount of work, time and effort. If you like TidyMP3 or you are using it for a commercial application, then you may want to support future development by making a voluntary donation. It's easy and secure - you can donate a sum of your own choice online in just few seconds with your credit card using PayPal (left) or with Bitcoins (right). Thank you!